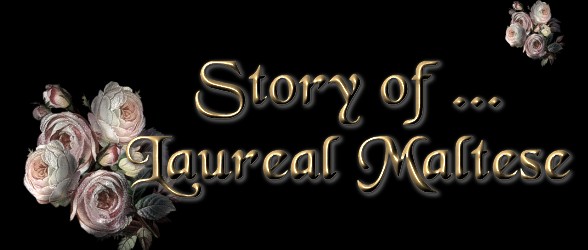 In my history of the breed I will tell you of a quite lengthy story. The only reason I am writing such a long lengthy history is because I hope that some of you who read this can learn how to go about buying quality. To own a well bred Maltese gives much satisfaction. My experiences have lead me to be a better breeder of Maltese out of pure determination and love for the breed. The difference between quality and not quantity has lead me to self satisfaction. I am amazed at how very different average or below average Maltese can be compared to the best of the best breeding.
In 1991after researching many breeds of dogs I acquired my first Maltese. He was to be a family pet and my children named him Skippy. AKC registered named Skip Ta Di Do Da. We found him advertised in the newspaper. He had the lovely personality of of a Maltese. He also was 9lbs. full grown! He had a cottony curly coat that was hard to groom. He also had missing eye rims that gave him a sore eye look. We loved him despite his faults we never realized he had then.
Then in the fall of 1992 after having Skippy only a year I fell ill. With three children ages 1 year, 3 and 5, I was having difficult time taking care of everything. I had been sick with Strep throat. It was left undiagnosed for sometime and the result was getting the Epstein Barr Virus (form of adult mono). I had only enough energy to go to the bathroom and brush my teeth. Then had to rest. Sometimes I crawled. I also developed a rapid pulse from my body trying to catch up to heal. So at 26 years old I was put on a Beta Blocker to control my heart beat. With the three young children I decided to place the dog because I could not take care of him. I was heart broken, but I knew it was the best thing for Skippy.
I found a real nice family for Skip. The lady who came to get him had a Maltese. She knew the breed. She thought perhaps because of Skips curly coat, size and head that he was mixed with a Bichon Frise. She told me some people do this and sell them as Maltese to make more money. They have more puppies because of the bigger size. I was horrified. Still Skip was AKC registered. Which at that point probably did not mean a thing. She did take him home despite our suspicions.
Skippy's toe tapping haunted me. I felt as if he was still here with me. I could not get used him not being here with us. I so loved the breed after having him. 6 months later I was feeling much better but still had to rebuild my strength. I called the family that had Skip to make sure they definitely wanted him. He was happy and they would not ever part with him. A few months later after knowing I wanted another Maltese I found in the paper again another Maltese. Female this time as I felt I could never replace Skip. On July 4, 1993 we brought her home. She was 6 weeks old and not even a pound. What did we know about such a young puppy? We had no idea a Maltese should be with the breeder till at least 12 weeks. Skip too was 6 weeks when he came. He was a much bigger pup thank goodness. Since he was so large I wanted one smaller. When I look back now at where we got those dogs so young I thank God nothing happened to them. Skip came from a lady who I suspect was a broker. She got the dogs from someone in Missouri and was selling them for her. She had not owned the parents. The female who we named Princess, AKC registered as Princess Lily of the Valley. Princess came from a lady who was breeding Maltese to pay her taxes.
Like many other pet owners I wanted my Princess to have a litter of puppies. So in the NEWSPAPER! I found a lady who had Maltese for sale and a few other breeds and offered stud service. I had researched Princess pedigree a little and read many books. This lady had a male stud of very reputable breeding. Great pedigree! I later discovered she was a puppy mill. I asked her where she got the male from for I thought perhaps I could buy one too. She gave me a number of a lady from Tennessee. Another puppy mill who told me that she did have the lines of this kennel who she bought directly from the breeder herself. I was shocked as I was starting to realize that these people were all in it for money and not the betterment of the breed. I told her why I wanted one and she said she did not care why I wanted the dog. What I did with it was my own business. I at that moment changed my mind. This lady scared me.
I was getting a little smarter....so I called my local kennel club. They gave me a number of a long time breeder here in Michigan. A member of the AMA. She was very nice. From her I received a number of my first quality Maltese. She was my mentor, Carol Kauk of Cristallo Maltese. Carol took a look at my female and her pedigree and agreed to breed her male Ch. Hi-Lite Marshmallow Menace to my little Princess. There was no consistency in Princess breeding' as apparent by looking at her pedigree. Her lines were all a mish mash of Champions and peoples pet. She was bred a couple times and retired. They all went as pets on a spay/neutered contract with limited registration. I wanted to strive for the quality.
In 1996 I acquired from Carol my very first show dog, Cristallo's La Ponch Kid, and at the same time was bitten by the show bug. Carol fell seriously ill several months after we first met. She and her husband asked me to take care of and breed litters for them. They also had me co-own Maltese with them. I owner handled my very first Maltese to her Championship through Carol's guidance. Her AKC. registered name is Ch. Cristallo Laureal Elegance. Next, Ch. Cristallo's Look of Love finished, and then, the male Cristallo's La Poncho Kid acquired 18 points with one being his major. Also we co-owned Cristallo's Show Off Jessica who had 7 points. The dogs were all retired and placed as pets before Carol's death.
1998 I meant Jeanne Hess of Sunncrest Maltese. She had a female puppy for me. Ch. Sunncrest Heaven's Scent. Heather was a exceptional Maltese. I took her out to the National Specialty in 1999 and showed her. We took first place in the 9-12 month puppy Sweeps. What a thrill for us both. I was floating on clouds that day. Also I have Heather's half sister Sunncrest She's All That, Hailey. Hailey has a son , Laureal's Cajun Hot Shot, who is owned by Roxanne Milligan. He is just now being shown by expert handlers Diane and Luke Echricht. My newest addition is Ch Sunncrest A Sign of the Times. He was winners dog at the 1997sd National Specialty. Also he is my Heather's father.
Jeanne has become a great friend and mentor. Always there when I need her. The quality of her dogs exceeds what I could ever dream.
Also in 1998 I came acquainted with the prestigious Kennel of Divine Maltese. Larry and Angela Stanberry have also become my mentors. Angie has shared so much and I am forever grateful. She too has become a trusted friend. They parted with Ch. Divine's Heavens to Betsy who I owner handled to her championship in a handful of shows. Betsy took the breed from puppy class her first week end out at the prestigious benched show at Cobo Hall. She even went over a special. Betsy also placed in 1999 at the National Specialty. I also had finished Ch.Divines Indecent Cajun Creation. Tate finished with a 5 point major. He finished just at 1 year of age. Tate is producing some lovely puppies. Like his father, Ch.Marcris Indecent Proposal ROMX and grandfather, Am/PR/Int'l Ch.Marcris Risqué Business ROMX1,(top producing sire of all time) he continually is producing the very best of quality consistently. His mother is real close to becoming top dam in the breed. Tate has his first Champion to his credit, Ch. Laureals' Red Hot Chili Pepper, my first homebred. He has produce a litter of 4 puppies who all are gorgeous. I expect them to finish giving this little man his ROM. Chris Holms of Veneridge Maltese also has a nice litter of 3 out of Tate. Tate is everything I was looking for in a male. Also, I have the very pretty Divine's Happily Ever After. Paige's structure is breath taking, As well as her beauty.
On December 1rst, 2000 my husbands business had burnt to the ground. We watched 15 years of hard work just vanish before our eyes. The dogs were my solitude and helped me through the worst time of our lives.
In 2001 My friend and most experienced mentor Barbara Bergquist and I teamed up and purchased from Pam Armstrong Ch. Hi-Lite Flaming Star. Who we finished in this January of 2002. Flame is an outstanding bitch going back to great producers. She has proven herself in the litter box with 4 puppies. All are beautiful. Barbara has been there for me for a good many years. She is full of wisdom. I am looking forward to my Su-Le puppy someday. I have decided to wait until Barb is finished owner handling her 150th champion. She just now has finished 144th Champion. Then she will semi retire. I want to get a puppy Barbara would keep. I am always looking ahead and planning where I want to be.
After all these years I have come to a point of creating the very best I can. With always improving each breeding. I am seeing some great results and now am reaping the joys of hard work. I have a long way to go but the best advice I ever received from Carol was," Have patients and never be in a hurry" with remembering her words everything is falling into place through trial and error. I have had the very best of help from over a hundred years of experience combined from everyone who has molded me. With out this long story I would had never been able to come to appreciate what some just have in their laps and do not even know what they have. I have learned there is much more to breeding than just breeding 2 dogs together. Looking for the producers who can produce consistantly, quality puppies, time after time.
~Beth~
Home | Contact Us | The Breed | Our Dogs | Our Pups | Links
©Copyright: Laureal Maltese 2002-2003.

All photos are the SOLE property of Laureal Maltese and Beth Lauer,
not to be used or reproduced in any manner without written consent.