Please click on photo to see pedigree....
Ch. Hi-Lite Flaming Star
Ch. Marcris Omens Hi-Lite
x
Ch. Hi-Lite Eureeka

Ch. Divine's Heaven's To Betsy
Ch. Marcris Indecent Proposal
x
Ch. Lepitite Heavenly Seraphim

Ch. Laureal's Red Hot Chili Pepper
Ch. Divine's Indecent Cajun Creation
X
Ch. Sunncrest Heaven's Scent

Divine's Happily Ever After
Ch. Divine's Rumor Has It
X
Ch. Hi-Lite Cindyrella's Sunshine

Ch. Divine's Indecent Cajun Creation

| | |
| --- | --- |
| | Tate finished at just one year of age he finished in a handful of shows taking a 5 point major to gain his championship. Tate's son Shocker followed in his father's foot steps and he too finished with a 5 point major! Tate has a ice white silky coat, good front and rear, with a dead level top line and excellent tail set. Looking at his short back and compact size it can be deceiving. In evaluating him you have to put your hands on his body and feel the strength and rib spring this little man carries it is surprising. Tate like his father and grandfather he has produced time and again what he is. Tate has the elegance and look adored by many. |

Ch. Laureal's Dream A Little Dream
Ch.Kismet-Petite Star Voyager
X
Ch. Laureal's Red Hot Chili Pepper

Home | About Us | Contact Us | The Breed | Our Pups | Links
ęCopyright Laureal Maltese 2002-2003.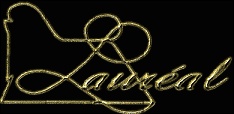 All photos are the SOLE property of Laureal Maltese and Beth Lauer,
not to be used or reproduced in any manner without written consent.