I have a 10 month old male available! Very pretty, deep black pigment, still in coat with the happiest yet silly little personality!

Please leave a message and I will get back to you as soon as I can. Thank you!
cell: (989)297-6813
or
Email Beth:
LaurealMaltese@gmail.com


Pet Puppies:
Occasionally, I have a puppy I will let go to a qualified home. All puppies sold as pets are sold on a spay/neuter contract. With a limited registration. The puppy will be guaranteed up to 1 year. They also will be vet checked and have at least 2 series of vaccinations. Every puppy will be sold as a suitable companion. With proper care and training they will be a great pet. They will have been bred to AKC standards and will represent the breed as the standard intends them to.
Show Puppy:
I do not sell show prospects. I sell show dogs. The show dog will be 6 months old. This dog will go beyond the definition of a pet dog. It will be qualified for registry with the AKC on an open registration. All stud rights on male show dogs are closed to the buyer solely. Any pups are sold as pets or are kept for the buyer to use in their own kennel. The puppy will be free from all disqualifying faults for the breed at the time of sale. Very rarely do I have a show dog for sale. I breed for me first and foremost.
Below are examples of Laureal Puppies

Ch. Laureal's Red Hot Chili Pepper
"Chili"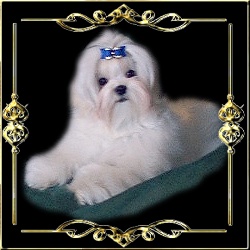 Ch. Divine's Indecent Cajun Creation
X
Ch. Sunncrest Heaven's Scent

Chili pictured above is an exceptional example of a Laureal Maltese pup.
We strive for our pups to be of sound quality, for both show dogs, and pets
We occasionally will have a pup for family pet placement see below for more information on pet quality puppies.
These are recent puppies produced here at ;
Laureal Maltese they are examples.

Home | About Us | Contact Us | The Breed | Our Dogs | Links
ęCopyright Laureal Maltese 2002-2003
not to be used or reproduced in any manner without written consent.